I used to live next door to a golden retriever who was kept in the yard all the time. My roommate and I watched him grow up from a pup into a young adult dog. The owners never let him in, never let him out.
I stole him late one night, and brought him over to our house. He was really freaked, it was so outside of his frame of reference to be inside, even though he was well acquainted with us (over the fence).
Then I put him back.
There's a poem in there somewhere.
Never let him in, never let him out.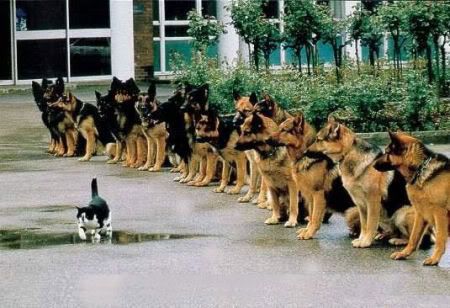 Tomgram: Noam Chomsky, Eyeless in Gaza
A Middle East Peace That Could Happen (But Won't)
In Washington-Speak, "Palestinian State" Means "Fried Chicken"
By Noam Chomsky
The fact that the Israel-Palestine conflict grinds on without resolution might appear to be rather strange. For many of the world's conflicts, it is difficult even to conjure up a feasible settlement. In this case, it is not only possible, but there is near universal agreement on its basic contours: a two-state settlement along the internationally recognized (pre-June 1967) borders — with "minor and mutual modifications," to adopt official U.S. terminology before Washington departed from the international community in the mid-1970s.

The basic principles have been accepted by virtually the entire world, including the Arab states (who go on to call for full normalization of relations), the Organization of Islamic States (including Iran), and relevant non-state actors (including Hamas). A settlement along these lines was first proposed at the U.N. Security Council in January 1976 by the major Arab states. Israel refused to attend the session. The U.S. vetoed the resolution, and did so again in 1980. The record at the General Assembly since is similar.
(rest at link)
Wheel Dividends: Europe's Clues to Breaking Car Dependence"
Common Dreams
by Derrick Z. Jackson
Bremen, Germany – The self-congratulations by bailed-out American car companies are hard to take seriously in a continent of relatively Lilliputian cars, amazing trains, and almost perfect public transit.

Chrysler last week claimed it may break even this year. General Motors boasted of repaying billions in government loans. GM CEO Ed Whitacre said, "I think the government and us, the taxpayers, made a terrific investment, and I think it's going to pay off big time."

The payoff is not yet visible. GM promises the electric Volt, but it currently has only one car, the Malibu, among 52 wagons, sedans, and small cars cited by Consumer Reports for high fuel efficiency. Chrysler has none. Both companies still dominate the ratings for worst fuel efficiency from subcompacts to SUVs. Ford, which did not take a bailout, remains the only Detroit competitor in fuel efficient vehicles with its Ford Fusion hybrid. Fittingly, Ford is expecting a $1 billion first-quarter profit.

While America spends $82 billion hoping bankrupt companies retool for President Obama's 35-mile-per-gallon standards by 2016, other countries are already into high gear getting cars off the street completely.
Homeless Good Samaritan honored at NY wake
By CRISTIAN SALAZAR (AP) – 10 hours ago
NEW YORK — About a dozen relatives and friends gathered Wednesday at a funeral home in Brooklyn to honor a Good Samaritan who was shown on video footage as passers-by ignored him while he lay, mortally wounded, on a city sidewalk outside an apartment building.

It was a humble service for Hugo Alfredo Tale-Yax, as mourners were outnumbered by television news crews and reporters, drawn to Funeraria La Fe in the scruffy Bushwick neighborhood by the national headlines generated by the Guatemalan immigrant's death.

His body lay in an open casket, surrounded by flowers. A large wooden cross hung on the wall over his casket and a smaller one hung near a letter from a stranger, who had read about his story in the news. "He was an angel from God among us, and he was a brave, courageous, caring man, who sacrificed life to save someone else," it read.

One of his grieving brothers, Byron Tale-Yax, said it was difficult to talk about the way his brother died.

"It's a message about humanity," he said. "We need to love one another."
by Monica Showalter
COALINGA, Calif. — Would France rip out its storied vineyards? Would Juan Valdez scorch Colombia's coffee crop? Sri Lanka its black pepper harvest? China its tea?

With global markets won by nations specializing in doing what they do best, and with regional reputations important enough to drive some nations to protectionism, it's almost unthinkable.

But then there's California.

On a springtime drive through the Central Valley, it's hard not to notice how federal and state governments are hell-bent on destroying the state's top export — almonds — and everything else in the nation's most productive farmland.

Instead of pink blossoms and green shoots along Highway 5 in April, vast spans from Bakersfield to Fresno sit bone-dry. Brown grass, dead orchards and lifeless grapevine skeletons stretch for miles for lack of water. For every fallow field, there's a sign that farmers have placed alongside the highway: "No Water = No Food," "No Water = No Jobs," "Congress Created Dust Bowl."
Yeah. That happens when you try to run a huge amount of agriculture in a climatically unsuitable area.
Drought in SW China breaks after 6 falls of rain: official
BEIJING – The severe drought in southwest China has broken after six falls of rain in the past month, Chen Zhenlin, spokesman with the China Meteorological Administration (CMA), said here Wednesday.

The rain occurred from March 22 to April 26 and ranged from 50 to 100 millimeters.

The drought had parched the southern areas of Yunnan Province, the northeast regions of Guizhou Province, and the eastern and southern parts of Guangxi, Chen said at a briefing.

The drought was among the most severe in decades, having a serious impact on people's lives and economic development.

More than 20 million people and 10 million farm animals were affected by water shortages at the drought's peak.
Good to hear the people in China are catching a bit of a break here.

Sales of Shirts to Help Navy SEALs Defense Fund Reaches Milestone
This past week, it was announced that the second of the three Navy SEALs who had been accused of prisoner abuse was acquitted of all charges. This was good news to the many who had joined together in support of the SEALs, including USNavySEALStore.com and SupportOurSeals.com, websites that was helping to raise money for their defense fund.
Background: Navy SEALs captured Ahmed Hashim Abed, an Iraqi terrorist allegedly responsible for the murder of four American contractors in Iraq. According to the charges, in 2004 Abed masterminded a successful plot to ambush American security agents. The burned remains of the bodies were hung from a bridge in Fallujah to allow the world press to photograph and publicize.
To help in the fundraising efforts, two t-shirts were created by USNavySEALs.com and sold at USNavySEALstore.com. $10 from the sale of each shirt was donated to the Warrior Defense Fund. Through their efforts, $10,000 was collected and donated to the Fund in less than 5 weeks. A letter of thanks from the Chairman of the Warrior Defense Fund was posted on the USNavySEALstore.com
I expect that if everybody sold T-shirts, all our worries would be over.
I could use a new T-shirt myself. I don't think "Spare the Poor Abused Abusers" quite cuts it though. Doesn't have quite the panache I'm looking for.
I bet they're really crappy T-shirts, too. Lots of synthetic fiber. Ya know.
Abuse Worries Overblown
StarPhoenix
For example, the tyrant dictator Joseph Stalin had a policy that to surrender and be taken prisoner was a treasonous offence, punishable by death. …
Ooopps! Story not available. Hmm. I guess the abuse worries were so overblown, that the Star Phoenix decided they weren't worth reporting at all.
Boy Scouts of America, Video Merit Badge
Belt Loop

Complete these three requirements:

1. Explain why it is important to have a rating system for video games. Check your video games to be sure they are right for your age.
2. With an adult, create a schedule for you to do things that includes your chores, homework, and video gaming. Do your best to follow this schedule.
3. Learn to play a new video game that is approved by your parent, guardian, or teacher.

Academics Pin

Earn the Video Games belt loop and complete five of the following requirements:

1. With your parents, create a plan to buy a video game that is right for your age group.
2. Compare two game systems (for example, Microsoft Xbox, Sony PlayStation, Nintendo Wii, and so on). Explain some of the differences between the two. List good reasons to purchase or use a game system.
3. Play a video game with family members in a family tournament.
4. Teach an adult or a friend how to play a video game.
5. List at least five tips that would help someone who was learning how to play your favorite video game.
6. Play an appropriate video game with a friend for one hour.
7. Play a video game that will help you practice your math, spelling, or another skill that helps you in your schoolwork.
8. Choose a game you might like to purchase. Compare the price for this game at three different stores. Decide which store has the best deal. In your decision, be sure to consider things like the store return policy and manufacturer's warranty.
9. With an adult's supervision, install a gaming system.
I hope this isn't replacing 4-H, but I fear otherwise.
(h/t Gary Farber)